With large corporations using your data as currency, users are getting fed up and looking for ways to restrict how their data can be used to track them, display ads, or build interest profiles.

Like almost all products these days, in its default state, Windows will track a lot of your activities to not only improve their products and services but also deliver ads and promotions. Thankfully, Windows 10 allows us to disable the operating system's tracking and includes other settings to beef up your privacy game.

All Windows 10 users who are concerned about privacy and how their data is being used, should make the below changes to increase their privacy in Windows 10.
Turn off advertising, suggested content, and app launch tracking
By default, Windows 10 Home and Pro version shows ads and Microsoft automatically associates an advertising ID to the user account. The advertising ID is linked to your Microsoft account and the company also uses this ID to tailor ads for Bing and other web services. In the General privacy settings, Windows 10 allows you to turn off that advertising ID and also the ads that you see in the Start menu and other places.
Also in this section is the ability to disable app launch tracking and suggested content in Settings.

To turn off the settings, follow these steps:
Launch Settings.
Go to Privacy > General.
Under the "Change privacy options" section, toggle Offthe following options:

"Let apps use advertising ID to make ads more interesting ..."
"Let Windows track app launches to improve Start and search results"
"Show me suggested content in the Settings app".
When done, your General settings should look like the following image.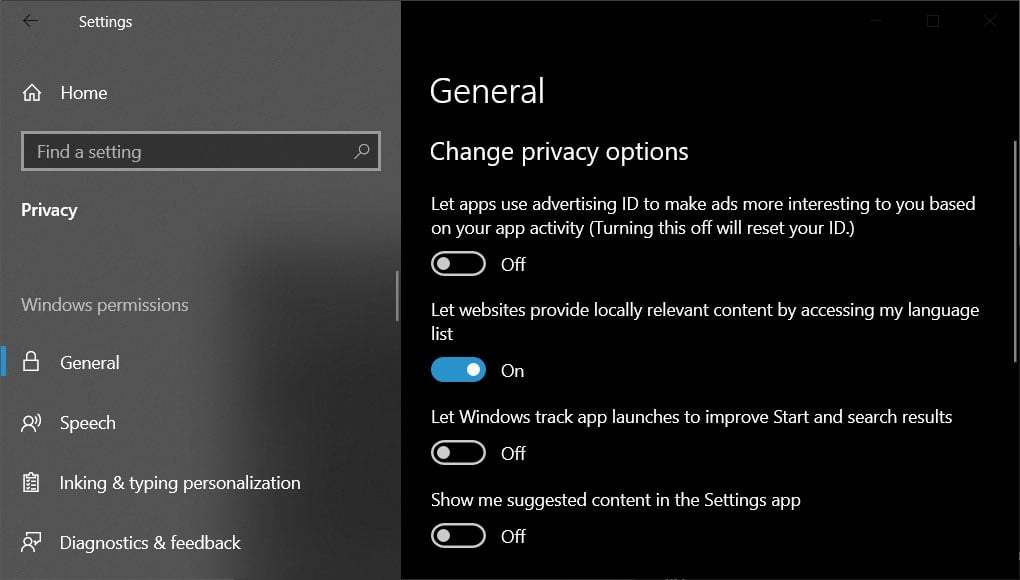 After following these steps, your advertising ID including your web browsing activities and behavior will be reset to default.

You'll still get generic ads/promotions in the Start Menu, which will disable in the next section.
Disable Start Menu suggestions and promotions
Microsoft will occasionally display suggestions/ads/promotions in the Windows Start menu for new apps or products that they have released. For example, Microsoft recently started displaying ads for the new Microsoft Edge browser in the Start Menu. To disable these suggestions, go to Settings > Start and disable 'Show suggestions occasionally in Start' as shown below.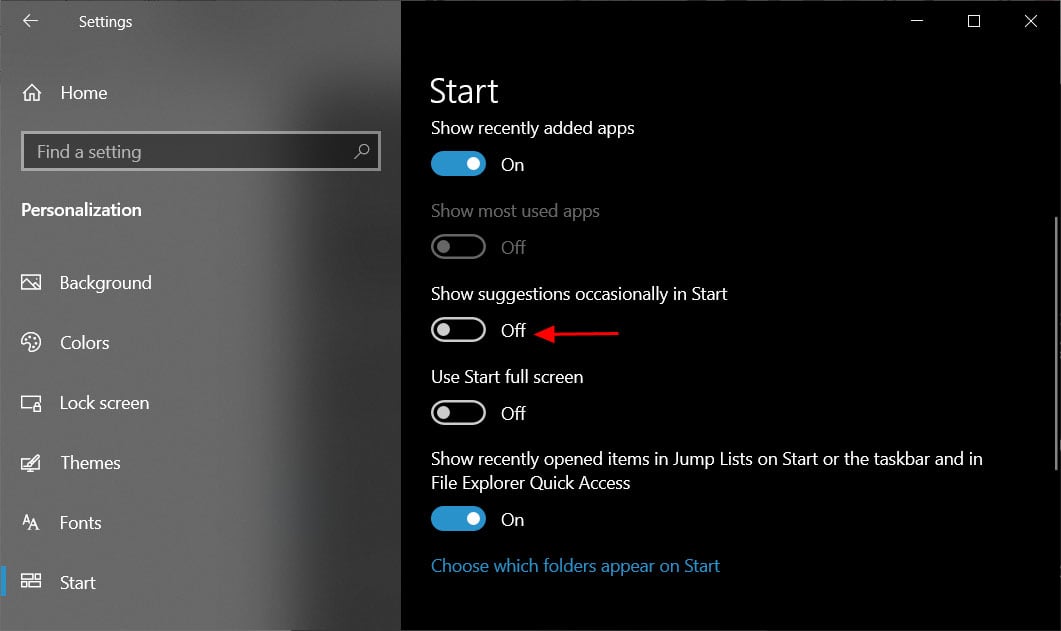 Disable the Windows Timeline
Windows 10 comes with 'Timeline', a very handy feature for power users. As the name suggests, Timeline allows you to go back in time to see and resume your work activities. It logs and organizes the activities that you do on your PC, Microsoft Edge and Android phone with Microsoft Launcher. With Timeline, you can start a task on one device (for example a PowerPoint presentation), and switch devices midstream and continue your project from where you left off.

Timeline works surprisingly well because it gathers your data including the information that you would prefer to keep private.

Unfortunately, for Timeline to work between devices, Microsoft has to collect your activity data, which for many is too much of a privacy risk.

Fortunately, Microsoft allows us to disable sending our activity up to Microsoft's servers and keep it local by following these steps:
Open Settings.
Click Privacy.
Open Activity History.
Uncheck the "Let Windows collect my activities from this PC" checkbox and Timeline will not collect your information.

Disable Timeline

Toggle Microsoft account under "Show activities from accounts" to Off.
Finally, you need to click on the Clear option to clear your activity history.
Restrict App permissions
Windows 10 apps that come from the Microsoft Store and some preinstalled apps will share your location data or give access to your microphone or camera.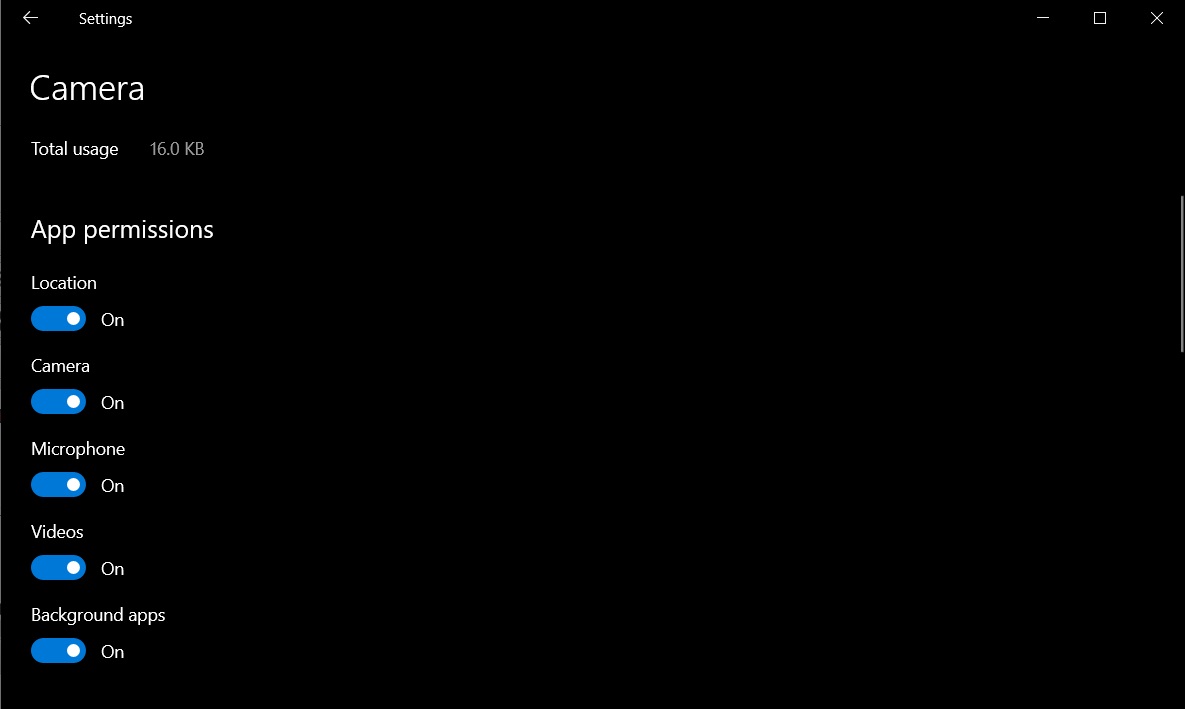 You can decide what kind of access each app can have from Settings > Apps > Installed apps and click on the app (eg Camera) whose permissions you want to limit.
Restrict Online Speech recognition
Microsoft supports speech recognition to speak to Cortana or use dictation. When this feature is enabled, though, Windows will be actively listening through your Microphone for voice commands such as 'Hey Cortana'.

Microsoft also admits in their privacy policy that they manually review short amounts of voice data to improve their speech service.

"For example, we manually review short snippets of a small sampling of voice data we have taken steps to de-identify to improve our speech services, such as recognition and translation."

For this reason, it is strongly advised that you disable the online speech recognition feature by going into Settings > Privacy > Speech and toggling it Off as shown below.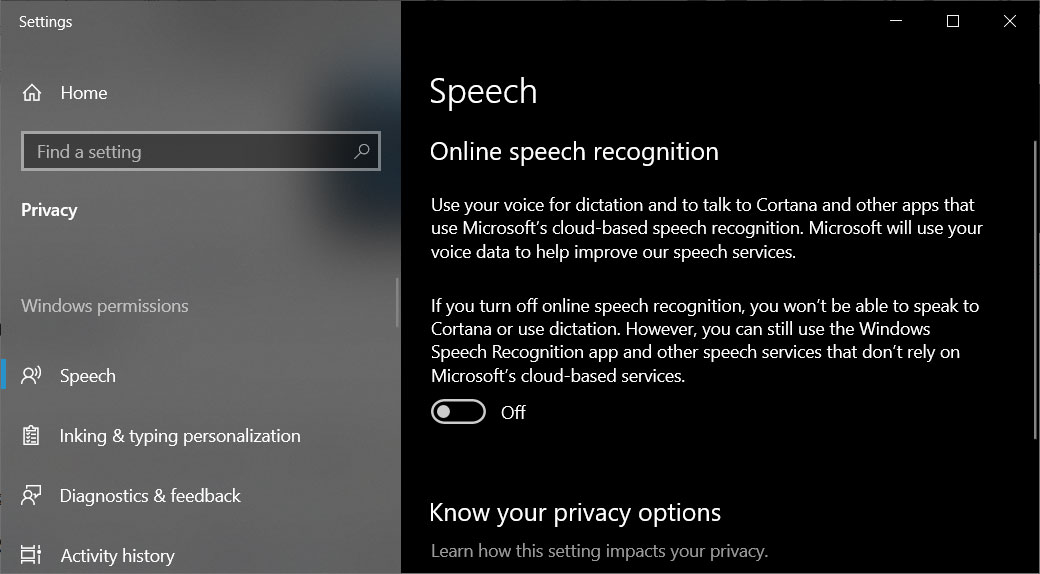 Restrict Diagnostic data
Hardware and software diagnostic data is collected to improve Windows experience on your device, according to Microsoft.

Windows 10 allows you to control what kind of diagnostic data is gathered about you, your applications, and your device.

To manage your diagnostic data, head to Settings > Privacy > Diagnostics & Feedback. You'll see two options—Basic and Full.

We recommend you to select the first option (Basic) to reduce data collection. When the Basic option is selected, only your device's basic information including settings, features, and performance data are collected.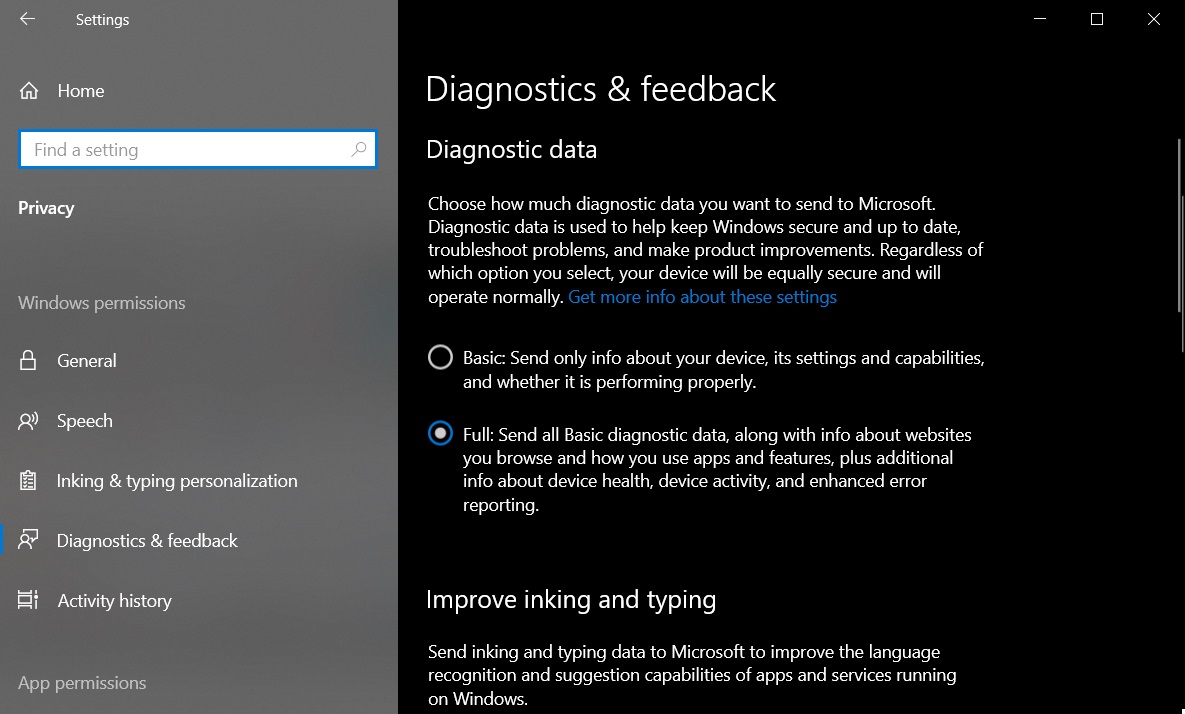 You cannot stop Microsoft from gathering this data entirely, but you can download Diagnostic Data Viewer from Windows Store to see what kind of data Microsoft is collecting about your device. On the same page, you should also turn off 'Tailored experiences'.
Turn off location, microphone, camera
To disable location access for apps and Windows, launch the Settings app and go to Privacy > Location, and turn off the location access option. Similarly, head to Microphone and camera privacy pages, and turn off the access.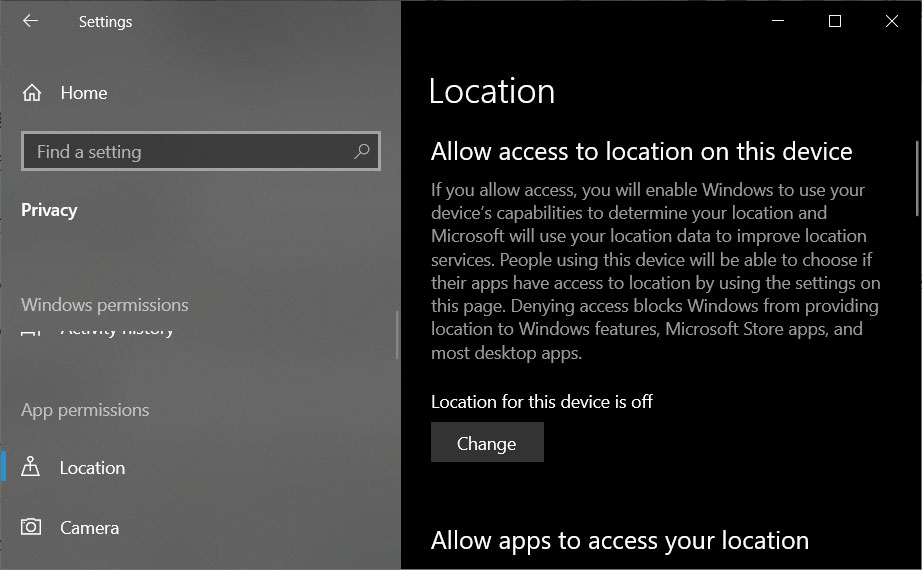 This will block all apps from using location, microphone or camera. For example, the voice recording option will disappear in apps like Telegram when microphone accessed is disabled
Disable inking & typing personalization
By default, Windows 10 will send your keystrokes and handwriting patterns to the Microsoft cloud to make a personalized dictionary that Windows uses to make suggestions.
As this feature sends a lot of information about what you type to the cloud, we suggest you turn this off unless you need it.
To turn off this feature, go to Settings> Privacy > Inking and typing personalization and set the toggle to Off as shown below.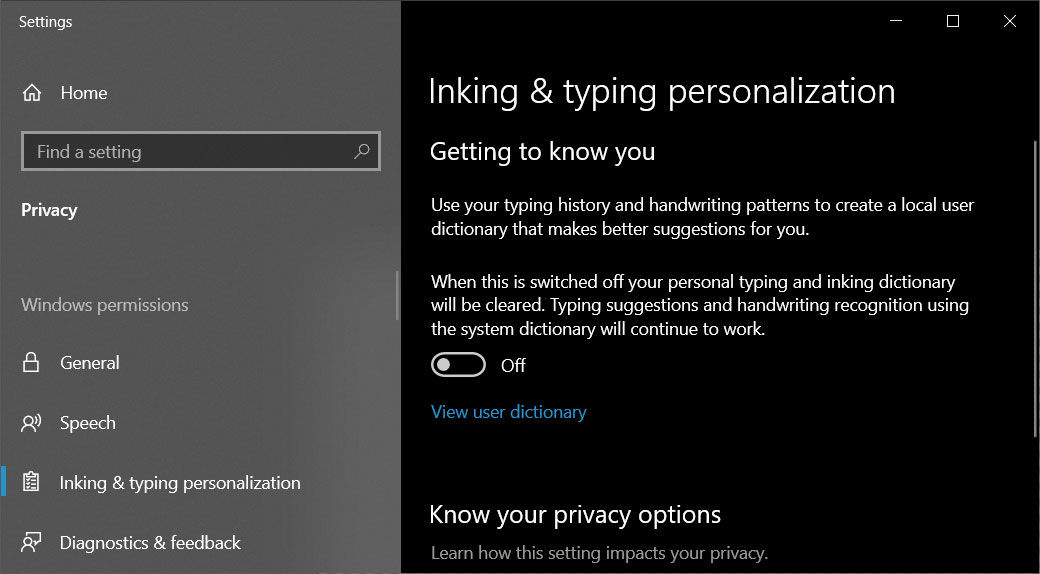 Disable Bing in Windows Search
Like Google, Bing is a search engine that needs your data to improve its search results. Bing also powers Windows 10's local search results in the Windows 10 Start Menu. These searches are then uploaded to Microsoft's Privacy Dashboard. To disable Bing search in Windows Search, you need to configure the following Registry values: [HKEY_CURRENT_USER\Software\Microsoft\Windows\CurrentVersion\Search] "CortanaConsent"=dword:00000000 "BingSearchEnabled"=dword:00000000 For more detailed instructions on how to disable Bing in Windows Search, you can our How to Disable Bing Search in the Windows 10 Start Menu guide.
Disable Cortana
Cortana is Windows 10's default digital assistant and Microsoft allows it to collect your basic information such as home location to improve its performance. You can also limit the information Cortana gathers about you.
In Cortana, open its Settings by clicking the gear icon that appears in the left panel. In Cortana settings, select Permissions & History and turn off the location, contacts, email, and other options.

You can also manage the information Cortana has collected about you from Microsoft's Privacy dashboard.
Use local account
If you use your Microsoft account to log into Windows 10, Microsoft is collecting your data to sync your settings with all devices.

You can remove Microsoft account and the process is simple: Open Settings > Accounts and select "Sign in with a local account instead."
Related Articles:
Microsoft Rolls Out New Windows 10 Optional Update Experience

Microsoft Unveils Their New Windows 10 System Icons

Windows 10 KB4532693 Update Bug Reportedly Deletes User Files

Windows 10 Users Affected by New Shutdown Bug, How to Fix

Microsoft Confirms Windows 10 KB4524244 Issues and Pulls the Update